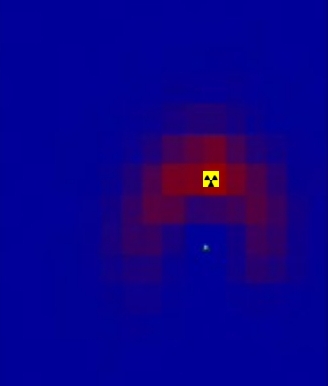 Heatmap showing calculated probability of a radiation source in a 100 meter square area based on Sequential Monte Carlo Method algorithm executing on a smartphone using a single radiation detector.
Image from DNDO funded research contract HSHQDC-12-C-00108
In addition to a long history of working with advanced computing and signal processing algorithms Sensigent personnel have contributed to recent state of the art funded R&D programs that focused on chemical and radiation detection under the most difficult conditions. When signals are weak or masked by other agents Sensigent detection, location and identification algorithms have enabled significant performance improvements. Using new Sequential Monte Carlo Methods as well as more established techniques such as Support Vector Method and Principal Components Analysis Sensigent technology is able to meet the requirement to discriminate, interpret and display actionable information.
Sensigent was formed to commercialize and market advanced technology products based on cutting edge research performed by some of the largest sensor and instrument companies and most respected academic institutions in the world. Based on intellectual property developed by a group including the California Institute of Technology, Smiths Group Plc and US government agencies and supported by research grants and venture funding totaling over $60 million dollars the technologies incorporated in our products is unequalled.

Backed by advanced manufacturing technology and available world-wide with service and support our products contribute to advances in medicine, industry, security and defense. The intellectual property incorporated in Sensigent products is protected by over 60 patents in the United States.

Contact Sensigent now to start solving your toughest data fusion and analysis problems. We have the technology, product and application expertise to deliver the performance and operational savings you need.